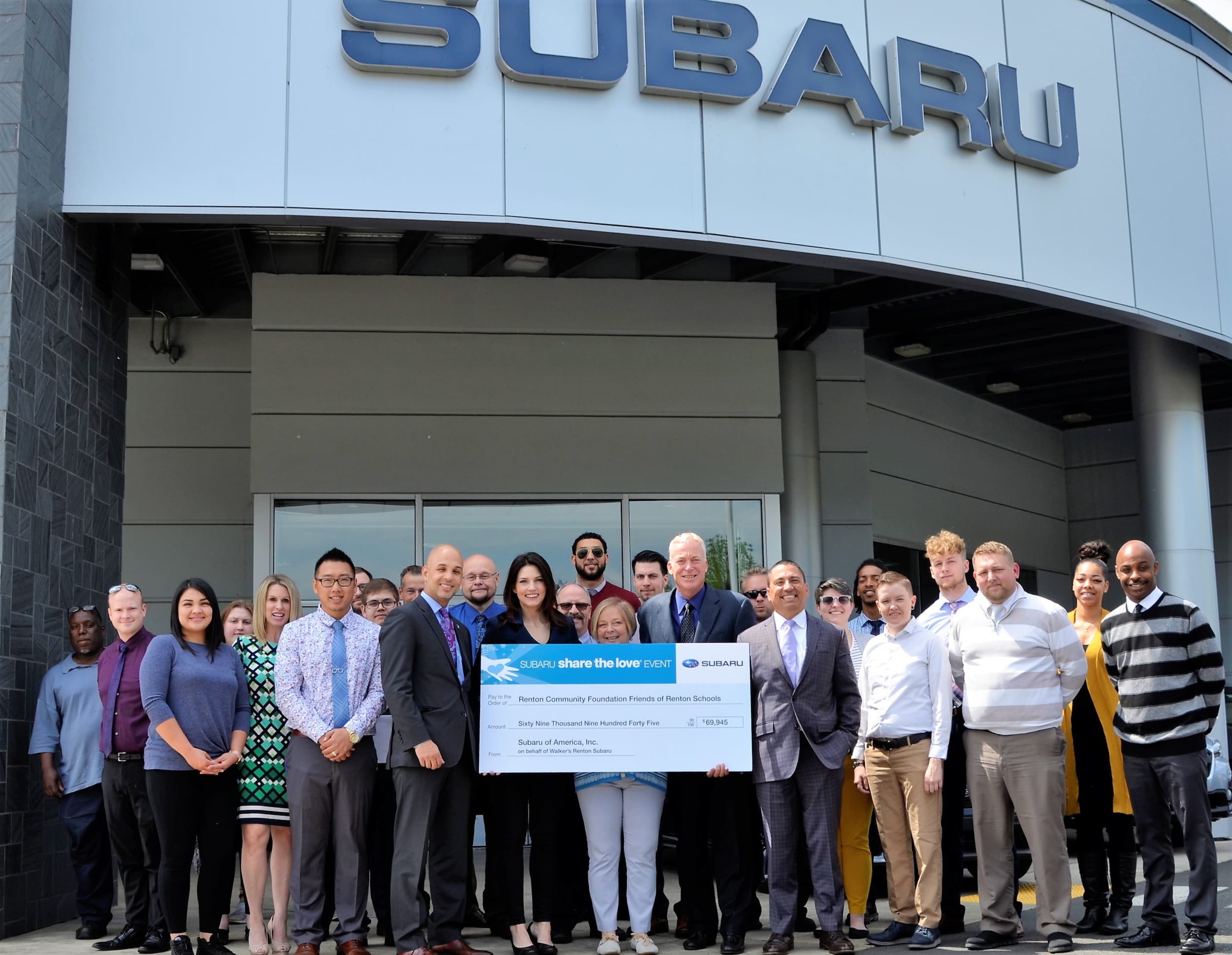 Each year, via the Subaru Share The Love Event, Walker's Renton Subaru partners with the
Renton Schools Foundation
to support the Renton community and
Renton Schools
. This year, Walker's Renton Subaru was able to raise and donate
$69,945
to support Students in STEM, music & arts, literacy and teacher grants.
Each year this unique partnership has funded and advanced the mission of the Renton Schools Foundation. For more than six years, Walker's Renton Subaru, through the Subaru Share The Love Event, has made an incredible impact on students and classrooms throughout the Renton School District. Walker's Renton Subaru has donated a total of $613,000 to the Renton Schools Foundation.
Renton Schools Foundation estimates Walker's has improved the lives of over 16,000 students. Funding provided by Walker's Renton Subaru has directly impacted music and arts in classrooms including funding for new trumpets, flutes, basses, cellos, elementary sheet music and a new high school drama program. Music and arts are not the only programs impacted. Free STEM and robotics summer school camps for hundreds of elementary, middle and high school students were funded by donations from Walker's Renton Subaru. Additionally, MyOn digital literacy programs were purchased to personalize student literacy and digital reading content that students can use at school and at home. Even funding for teacher grants were allocated to directly impact classroom projects, after-school programs, hands-on classroom resources, video production equipment and enhanced student learning materials.
| | |
| --- | --- |
| | In a Subaru Love Impact Story wrote by the Renton School Foundation earlier this month, the Renton Schools Foundation said that Walker's Renton Subaru is dedicated to ensuring students in the Renton School District have the best educational opportunities possible. "We're grateful, not only to be a part of our community, but to serve and support the causes and passions that are closest to our hearts, right here in our neighborhood" - Renton Schools Foundation. |
| | |
| --- | --- |
| "Walker's Renton Subaru prides itself in our connection to the community," said Dale Walker, Owner of Walker's Renton Subaru. "Being able to give to Renton Schools Foundation through the Share the Love event to continue to improve our schools is just one simple way we display our commitment." | |
Quoted from the
Renton School District
, Renton Schools Foundation chair Pam Teal is impressed at the level of commitment of Walker and his entire staff to raise the funds. "Dale Walker's entire team is incredible," said Teal. "The entire Subaru staff worked so hard during the 'Share the Love' event to ensure customers knew that their donation would go directly to classrooms and help to sustain the wonderful programs being offered at every school in the Renton School District."
Sources:
http://rentonschoolsfoundation.org/